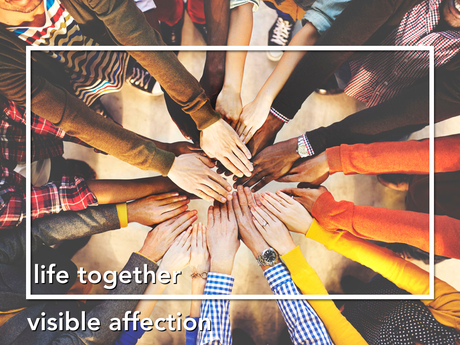 Sermon By Pastor Corky Calhoun
LIFE TOGETHER: VISIBLE AFFECTION
This has been one of the hardest sermons to write. Not because there is not enough Biblical evidence for tangible affection, nor because there isn't a need for this expression of love. No, its because we have so culturally distorted affection and sexualized it till no one feels safe. The abuse and objectification of mostly women and children through out the world has made touch complicated for the church. And to be clear, the "church" has also contributed to this mis-trust. The truth is we know we crave affection, people need the assurance of love that comes when some one reaches out and touches them. The early church was marked by greeting the saints
(each other) with a Holy Kiss. Can you imagine what that would do to Sunday attendance if we made that an expression of our faith in Christ? So, how can we reclaim affection as a sacred part of being the church and doing life together? I'm not sure if we can, but I am sure that affection is important for people to have assurance. As I heard from one of my third graders a year ago...some days you just need a hug. Join us Sunday as we continue to unpack what Life Together should look like.