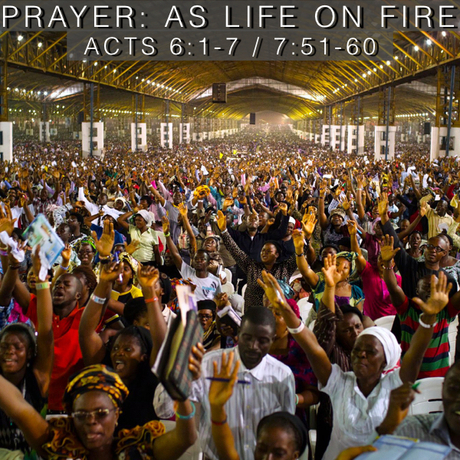 Sermon By Pastor Corky Calhoun
It's interesting to me that the further away we get from that personal moment of salvation from sin, the less passionate most Christians are about their faith. Time in truly erodes awareness of. I think the thing that keeps us from having a "Life on Fire" for Jesus is a disconnected prayer life. It's not frequent enough, fervent enough, faithful enough. Look, we are passionate about the things that mean the most to us, it's a simple truth that reveals a hidden reality. This reality is that our passionate life for Christ should be in full view to the world, people should know we are passionate about his mission to reach our community with love and grace. It is why we use terms like "All In" and "Sold Out" around here to describe the walk we are supposed to be walking. It's my desire that none of us would forget that not only have we been redeemed, but we have been redeemed with a purpose. When Paul tells us we should "pray with out ceasing" I think what he is trying to say is that we should live our life on fire. Not only should our prayer life be passionate, but it should influence our passions! I think we spend so much time asking God in prayer to give us the desires of our hearts, instead of asking him to help our hearts burn with greater desire for him!
Join us Sunday as we continue to look at the practice of prayer and the difference it makes.